REDUCING SINGLE-USE PLASTic ONE REFILL AT A TIME
Did you know that by using a reusable water bottle, you could save an average of 156 plastic bottles from entering the waste stream every year? Yeah, that's a lot of plastic! 
Clean Memphis has been awarded a $500K grant from the U.S. Environmental Protection Agency (EPA) to reduce plastic in waterways by installing new water refill stations in schools and parks. In addition to the installation of water refill stations, we are also launching a single-use plastic litter awareness campaign – Choose to Reuse. We're working to reduce plastic pollution in our water systems one refill at a time. 
More than 18 billion pounds of plastic waste flow into the oceans each year. We can curb that number by refilling reusable bottles instead of reaching for single-use plastic bottles. Who needs bottled water in Memphis, anyway? Thanks to the Memphis Sand Aquifer, we have some of the best drinking water in the nation! 
We're calling on Memphians to join us in this effort! Can we count you in?!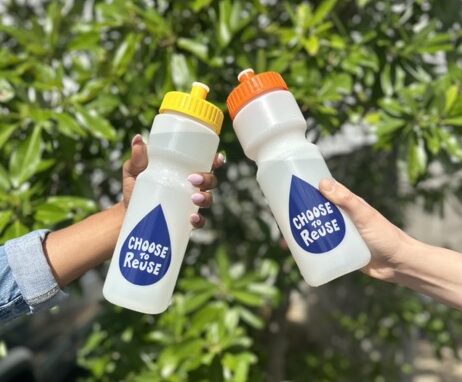 FILL IT FORWARD WITH CLEAN MEMPHIS
We're working with the team at Fill it Forward to encourage and empower Memphians to reuse! Fill it Forward provides an interactive platform that allows you to track your impact and connect with a global community. By participating in our campaign, you will help us curb the use of single-use plastic in Memphis and build awareness in our neighborhoods. Tap below to join the movement!