When it's 101 in the shade is not the time most of us are dreaming up recipes for 55 pounds of yellow squash. But the growing season doesn't take a break and no one knows that better than farmers and those who glean their surplus. In Memphis, a network of local partners addresses some of this nutritious excess each week by gleaning the Agricenter Market. One Wednesday in July, a few extra members of the Memphis Food Waste Task Force tagged along to get a sense for this work.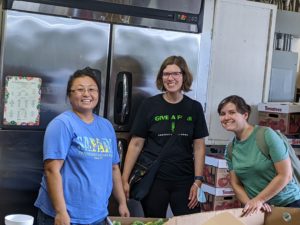 Susan Moinester, a Task Force member and a co-creator of this gleaning relationship, has been coordinating volunteers and gleaning for five years. As a member of Beth Sholom Synagogue, she wanted to find a space for the nutritious produce that didn't sell at the end of a market day as well as people who needed that food. The people connection came from Jewish Family Services. The farmer connection came from Susan and several other members of Beth Sholom. Around 3:30 each Wednesday, Susan or another volunteer walks through the Agricenter market and asks vendors if they have anything for the food pantry.
On this gleaning outing, 188 pounds of melons, okra, beans, squash, peppers, and tomatoes needed a home right now to avoid being sent to a landfill. As Susan recorded the weight and type of each donation, Task Force members Angelica Carey and Heidi Rupke loaded the food into carts and then into the back of Susan's car. The recordkeeping is important: It's compiled by the Society of St. Andrew, who at the end of each year sends a summary of donations that farmers can use for a tax deduction.
Equally important are the agencies who distribute the produce to people who will eat it. One of those partners is Jewish Family Services, which operates a kosher food pantry open to anyone. This is where the produce is sorted again. Director Audrey May examines the gleaned food and assesses how much and what types of produce will best match her clients' needs. She needs food that will stay fresh for another day or two until it is picked up. Another partner from Holy Communion Episcopal Church picks up the "prep ready" produce that must be used the very next day in soups, casseroles, and other meals prepared by volunteers from that congregation and shared with the Emmanuel Center. Along the way, some donations are culled because they are simply too ripe for use. These make their way into Atlas Organics composting bins. But the amount of food in these bins isn't much. The cooks at Holy Communion slice away the parts of the fruit and veg not suitable to eat and make good use of the rest.
Gleaners are the connectors between nutritional resources and people. They work with consistency, respect, and much care. The Memphis Food Waste Project celebrates and supports these efforts with information, data, local connections, and in any other way we can. These practices of gleaning and cooking point the way to a food system that prioritizes people and food rather than speed and waste. Those are ideas worth sharing.
——–
Do you want to start a gleaning practice at a local market or store? Contact us (link to info@cleanmemphis.org) with your ideas and we can help you get connected.